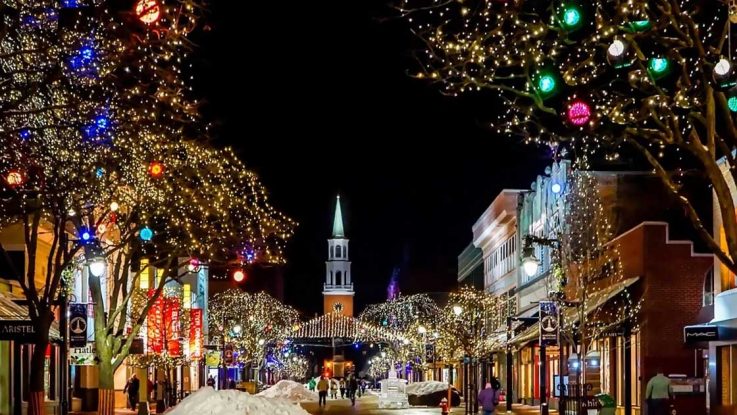 You will hardly find any other place in Canada where Christmas is celebrated in such a festive mood. The people here love to socialize and celebrate occasions like Christmas in a way as if they are one big family.
During Christmas time, the streets get filled up with temporary markets. Various festivals take place to celebrate the occasion. 'Christmas in Merrickville' is a popular festival that takes place every year.
Raising funds for charity is one of the main reasons to arrange this festival. Every year, money is raised for 'The Food Cupboard' organization that helps the people of Merrickville.
There is the Santa Clause Parade which remains the top attraction of the day. People of all ages eagerly wait for this beautiful parade. The children, especially, line up along the streets to get a glimpse of the Santa Clause.

A children's party is held, usually after the Santa Clause Parade. There will be free food and treat bags. The little boys and girls will be able to meet Santa and take photographs.
Annual Crafts Show takes place during this time were lots of vendors participate to showcase their products. You can buy the products of local artisans. You can buy unique gift items from this event.
Things like candles, soap, pottery, jewelry, clothing, knitted hats, and Christmas decorations are very popular. Silent auction and bake sale also occur here. The proceeds of these events will go to the Merrickville Agricultural Society which works for promoting the local agriculture.
A 'tree lighting ceremony' also takes place. The local people watch a 30-meter tree being decorated with Christmas lights. This is an amazing event and will put you in the Christmas mood instantly.
Merrickville's Country Christmas Makers Market is held, and the Community Centre turns into a huge marketplace. Here you will be able to get lots of local things which will help you to prepare for Christmas. There is the farmer's market where you will get flowers, cookies, pottery, meat, and other things.
Many stalls provide free eco-wrapping, so you won't need to worry about wrapping your gifts. The entire place is decorated nicely with garlands, twinkle lights and other decorative items.
A draw takes place and you can participate to win attractive prizes. All you have to do is buy something from the stalls there and show the receipt. You can also win cash prizes.
Theatre Night takes place at the Merrickville United Arts Centre. You will have a great time with your family and friends watching great performances.
The main objective of this festival is for people in the village to participate and have a lot of fun. There are lots of activities they can do here. They can set up their stall with homemade food or other local products.
They can participate in contests and draws to win prizes. Christmas is an exciting time for the people of Merrickville.